Getting started with ePukapuka
App Guide (pdf format)
Computer Guide (pdf format)
eReader Guide (pdf format)
Print
With OverDrive, you can borrow and enjoy free eBooks, audiobooks, and more from your library or school's digital collection. All you need to get started is an internet connection, a library card or student ID, and these three steps:
1. Find your library
Use the library finder on epukapuka.overdrive.com or in OverDrive's app to find and open your library or school's digital collection.
2. Borrow
Borrow a title. You can do this either by selecting Borrow under the jacket (shown below) or by clicking or tapping the jacket to go to the title's details page (where you can see extra details and options for the title before you borrow it).
You'll need to sign into your library's digital collection to complete this step.
The borrow button for an available title. See instructions above.
Note: Magazines and newspapers (available in the U.S. only) work a little differently than other digital titles. See getting started with periodicals for more help.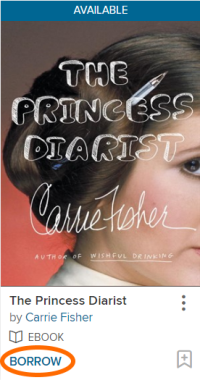 3. Enjoy
If you borrow a title from its details page, you'll see a button suggesting the best way to enjoy the title on your current device.
The read now option on the title details page. See instructions above.
Or, you can always see all of your options for borrowed titles on your Loans page (under books icon
). From there, you can download most titles or enjoy them immediately in your browser.
The choose a format and read now options for a borrowed eBook. See instructions above.